LOCATION & PREVAILING DEVELOPMENT PATTERN
The Elyssar project area forms an integral part of Greater Beirut. Situated around 3.5 kms south of the Beirut Central District, it is well placed in relation to major planned highways and other developments in the Metropolitan area.
The project area extends over an area of around 586 hectares (ha) from Summerland and Sports City in the North to the boundary of Beirut International Airport in the South. From the East it is bounded by Airport road and from the West by the Mediterranean Sea. Its existing population has been estimated at around 130,000 in 1995.
Included in the project area are the localities of Jnah, Hay Al Zahra, Sabra-Chatila, Bir Hassan, Horch al Katil, Ouzai, Al Maramel, and Raml Al-Aali.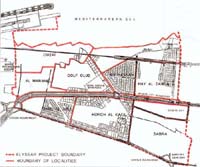 The project area is mostly occupied by residential land use. There are however, significant areas of commercial and workshop use along the main road in Jnah and Ouzai and a busy local shopping area in Sabra-Chatila.
The Sports City Stadium is prominently located in the northern part of the Study area, while the Golf Club occupies a large area in the central southern part.
Government facilities face Sports city and the entertainment/tourist complexes of Summerland and Coral Beach adjoin each other with sea front locations. The project area, in terms of development, has been classified into 4 broad categories: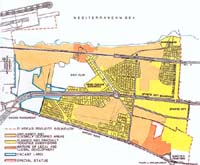 (i) Areas typified by low rise, poor quality construction and unplanned layouts. Most of these areas are illegally occupied. There are 6 major areas of predominantly illegal development, in Hay Al-Zahra, Sabra-Chatila, Jnah, Horch Al-Katil, Ouzai and Al Maramel. They total around 160ha, which represents almost 30% of the project land area.
(ii) Areas typified by medium rise, fair and good quality construction built on planned subdivisions. Most of these areas are legally occupied and not yet fully developed. There are 5 areas of legal development in Hay Al-Zahra, Bir Hassan, Raml Al-Aali, parts of Horch Al-Katil and northern Sabra-Chatila.
(iii) Vacant land in Al Maramel and Raml Al-Ali. These areas total some 43 ha and are not yet subdivided.
(iV) Areas containing a mixture of legal and illegal development in Ouzai/Jnah and in the Eastern part of Sabra-Chatila.